Shipping Information
Affordable Funeral Supply Ships With UPS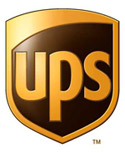 UPS is the world's largest package delivery company and a leading global provider of specialized transportation and logistics services. AFS depends on UPS to deliver your supplies to you safely and promptly. Your shipping costs will be calculated for you in your Shopping Cart. Browse our current UPS shipping options below.
Click here to view UPS Hours of Operation.
Domestic Shipping Options (U.S. and Puerto Rico)
UPS Ground
UPS Ground is the economical choice for all of your routine shipments. This dependable service is available in all 50 states and Puerto Rico. More Info on UPS Ground Shipping
UPS 3 Day SelectSM
Choose this guaranteed service for your less time-sensitive shipments. Available in the 48 contiguous states. Delivery by the end of the third business day. More Info on UPS 3 Day SelectSM Shipping
UPS Next Day Air Saver®
Available to the 48 contiguous states and limited addresses in Alaska and Hawaii. Next business day; delivery by 3:00 or 4:30 p.m. where UPS Next Day Air® delivery is committed by 10:30 a.m. or 12:00 noon, respectively. More Info on UPS Next Day Air Saver® Shipping
International Shipping Options (Outside U.S. and Puerto Rico)
UPS Saver
Ships to more than 215 countries and territories worldwide. Second business day delivery by end of day to major cities in Europe. Day-definite delivery by end of business day to other countries, depending on destination.
Customs, Duty, Taxes Customer is responsible for all customs, duty, and taxes charged in their jurisdiction for international orders. These costs are out of Affordable Funeral Supplies control and are not included in the shipping cost.
Freight Shipping (Items over 150 lbs.)
If your order is large enough it may qualify for freight shipping, which is significantly less expensive than normal shipping. If you are purchasing several items at once, please call us or fill out our "Freight Quote Submission Form"
Freight shipping rates are required for bulk orders. Since these items are handled differently in each country, a custom shipping quote must be calculated in order for us to ship freight to you.
Click here to submit information for us to prepare a freight quote for you. One of our representatives will get a rate quote and contact you as soon as possible.
Receiving Products
All products must be inspected immediately upon being received. If any damage is discovered, we must be notified immediately. For freight shipments, please open and inspect the products thoroughly. If any damage is discovered, it must be noted on the receiving paperwork. Freight companies are required to stay until all freight inspected, upon request. Do not sign for a shipment until it is inspected. Our liability is released once the product is received and signed for.
Return Policy
Returns vary depending on the manufacturer. Some items are eligible for a return and some are not. PPE is not eligible for returns. No items that could come in contact with an infected or deceased individual are eligible for a return. No items outside of a return period are eligible for a return. In the event of a return, customer is responsible for all shipping charges. Returns may be subject to a restock fee. Return periods and policies also vary manufacturer to manufacturer. Please inquire before you purchase if you have a question about the return policy on a specific product.